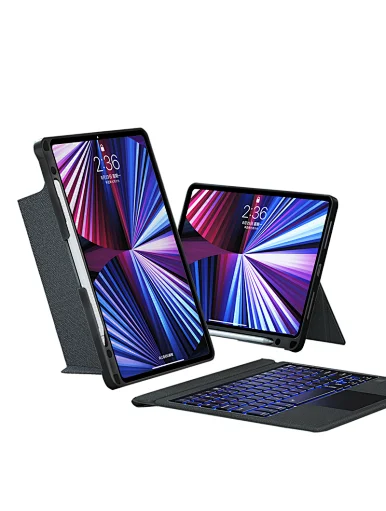 WIWU Bluetooth Mag Touch iPad Keyboard Case English+English & Arabic
Mag Touch iPad Keyboard Case10.2&10.5''/10.9&11''/12.9
MAGNETIC DETACHABLE KEYBOARD - The keyboard is firmly adsorbed on the protective case through a long magnetic strip. The keyboard can be removed and stored separately, leaving only the protective case and back stand. The iPad can be placed on your knees to read, watch videos or draw pictures. This makes it easy to switch between iPad and Mac.
ADJUSTABLE STAND ANGLES - Flexible kickstand offers 0-180° multi-angle tilt. You can adjust the screen to any desired angle when you are typing, sketching, reading, viewing, playing games, and working. The stand is very stable and will not cause your iPad to suddenly fall backwards, it is suitable for use at home, school, office, and travel.
EFFICIENT PROTECTION - Using soft silicone TPU protective case protect your iPad from scratching, bumps, drops or dust. Provide 360-degree protection. The iPad keyboard case will not block the keys and speakers of the iPad, and can easily access all ports such as the volume button, power button, camera, speaker, microphone, etc.
NATIVE MULTI-TOUCH TRACKPAD - This iPad keyboard case features a responsive and reliable trackpad that allows you perform Multi-Touch trackpad gestures. (Adjust the sensitivity of the trackpad: Settings > General > Trackpad & Mouse > Tracking Speed).
7 BACKLIGHT COLORS - With a full row of iPadOS shortcuts and 7 RGB LED backlight colors: blue, green, red, cyan, purple, yellow, and white. Press the light key + up/down arrow to switch colors. Support three-level brightness adjustment to adapt to your indoor, outdoor or night use. Press the light key to adjust the brightness.
LONG STANDBY TIME - The keyboard working time is 80 hours, the standby time can last for 150 days, and the charging only takes 2-3 hours. Auto sleep/wake initiates when keyboard case is opened & closed to conserve battery life, iPad will be automatically disconnected after the keyboard is left for 10 minutes, and you can press any key on the keyboard to wake it up.
                                                                                                   Product Features
*Brand
WiWU
*Model
Mag Touch iPad Keyboard Case
*Size
for iPad 10.2&10.5''/10.9&11''/12.9
*Color
Black
*Version
English/ English+Arabic
*Features

Wireless Connection
16 Shortcut Keys
7-color Backlight Keys
28% Larger Trackpad, Native Multi-touch Support
Scissor Foot Structure Button
3 Levels of Backlight Brightness Can be Adjusted
360 ° All-round Protection
180 ° Adjustable Back Bracket
Detachable Keyboard
Supports the iPad Vertically
1.42lbs Lightweight
Convenient Pencil Charging
Auto Sleep/Wake Initiates